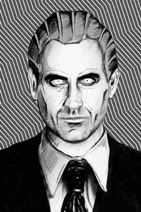 D. Harlan Wilson is interviewed in
Dark Scribe Magazine
.
Wilson is one of my favorite authors. I have published two collections of his irreal short stories,
The Kafka Effekt
and
Stranger on the Loose
. His stories also appear in
The Bizarro Starter Kit (orange)
. If you are not familiar with his work I would recommend checking out one of these collections.
For more information about D. Harlan Wilson, visit him online at
http://www.dharlanwilson.com/